Ancient times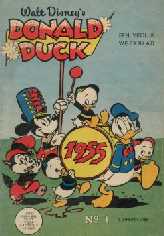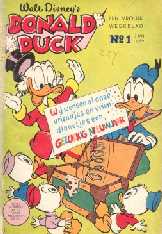 In the "ancient times", the Weekly contains nearly only American stories. The best stories from this period are almost all written and drawn by Carl Barks, who worked from 1942 to 1967, and who is still regarded the best Duck story maker ever.
The stories in the Dutch weekly didn't dome directly from the USA: most of the time they were translated from German or Danish. For instance, the Dutch names Dagobert (Scrooge) and Guus (Gladstone) were copied from the German translations (by Erika Fuchs).
Gustaaf, directly translated from the German... (panel from Weekly 14 of 1958)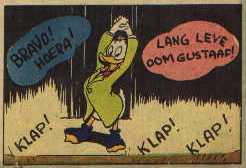 From 1953 on, there is also original Dutch work in the Weekly. Ed Lukacs is the main deliverer of covers, and he also draws a story now and then.
---
All texts are copyright Harry Fluks. Do not copy without permission.
This website has been built as a hobby. It has no official connections to Disney or the weekly Donald Duck magazine. Drawings are copyright Disney, photographs are copyright of Harry Fluks. Unless noted otherwise.