Dit is DD50.Inducks.org, onderdeel van inducks.org.
Zie ook mijn Bolderbast site (over Inducks) en mijn foto-album.
vorige pagina | volgende pagina

1963
This year: The Weekly(2001-09-04) (List of other years)
Starting in 1963, a number of new characters enter the Weekly. In issue 4 Ludwig Von Drake (Otto van Drakenstein), who is more an impostor than a real professor in his first story.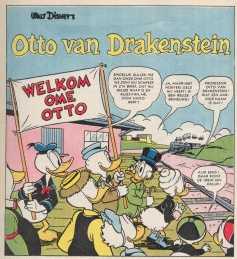 ---
All texts are copyright Harry Fluks. Do not copy without permission.
This website has been built as a hobby. It has no official connections to Disney or the weekly Donald Duck magazine. Drawings are copyright Disney, photographs are copyright of Harry Fluks. Unless noted otherwise.