1965
This year: The Weekly(2001-09-09) (List of other years)
The most important change in 1965 is the use of the Toonder studio for making new stories. About this, I let Patty Klein say a few words. Patty has written these stories for several years.
Patty Klein:
For four years, I made a 4-page story for Toonder Studios, every week. Alterating a Hiawatha and a Big Bad Wolf story, guided by my boss at Toonder Studio's Andries Brandt.
The Wolf stories were mainly drawn by Jan Steeman, and the Hiawathas by Jan van Haasteren. But also Dick Matena, Piet Wijn and others made an occasional story in those days.
I started at Toonder Studios in September 1966.
Toonder Studios delivered a Dutch Disney story every week to the Ge´llustreerde Pers, where the editors of the Weekly resided. Our "boss" there, the one who judged the plots before they were drawn, was Rudie Jansen (later under the name Eva Jansen editor-in-chief of the girls' comic magazine Tina). She approved almost every story that I wrote, under guidance of Andries Brandt. I remember one rejected plot in which Bad Wolf sent Little Wolf to a "house of negative correction". That went a bit too far for her...
Basically, I learnt the job of writing by doing these 4-pagers every week. I believe that, before I did it, Andries Brandt wrote them himself, and maybe sometimes Lo Hartog van Banda.
Before I started, Andries Brandt already had added elements to the Wolf stories like the Bad Guys Club, the Good Ladies Club etc. To the Hiawatha stories, I think, the Bronze Axe (which makes unvulnerable), and the Pafwangs (rival tribe). I invented the name Rondbuiken (Round Bellies) for Hiawatha's tribe. Actually I didn't invent it, but found the name in a book with existing Indian tribe names.
In those days we also wrote lots of Flintstones, Yogi Bear and the like. But that's a different story (or are different stories).
Wolf stories were easier to write than Hiawatha stories. Once a theme is fixed (wolf tries to eat piglets), it's much easier to write plots (as I then thought, and still think). That's why there came more secundary characters in the Hiawatha stories: Boze Bij (Mad Bee, the honey seeker, who was nearly always on sick-leave), Wakende Worm (the Indian who was constantly chased by his wife with a carpet-beater).
Hiawatha's dog Humpie was named after our own dog, a little round farm dog with two mothers (the farmers drowned the rest of the two nests). And our dog Humpie was named again after one of my nieces, who carried Humpie as a nickname.
Another nice-to-know fact: at the time, I studied Biology and one of my classmates was Midas Dekkers (a Dutch biologist, well-known from TV), whose real name was Wandert. He started to call himself Midas (Zeke Wolf's Dutch name) because I wrote those Wolf stories. (Dekkers once wrote a column about this.)
I recall that, at a certain time, the editors wanted the medicine man to carry a new mask (the old one was, I think, too old-fashioned or not nice enough). Andries Brandt and I wrote a story around that. First the medicine man had the yellow mask, and later a bigger, nicer, red mask.
Somewhere in the early 70s Toonder Studios got the assignment to also make Duck stories for Disney, and Goofy, Gyro Gearloose, Chip 'n' Dale (so not a bunch of "old style" Wolf stories). I don't know who gave that assignment, maybe from the Ge´llustreerde Pers, or from Disney directly. I liked it; after so many years of Hiawatha and Wolf, some Duck stories! I think I wrote a few Chip 'n' Dale and Donald Duck stories myself.
Did you know that I started a second carreer as a poet? In June 2001, my third poetry collection was published (publisher Atlas), and in the fall a collection will be published in England. My first and second collection are reprinted in one book: Traliedieren (Animals Behind Bars), with sonnets about zoo animals. I use my husband's name for it: Patty Scholten. When I applied to Toonder Studios, I also sent them an animal sonnet. So I'm just back to where I started.
(Picture on top: one of Patty Klein's first stories, from Weekly #21, 1967. Drawn by Jan van Haasteren.)
Pictures below: a script page by Patty Klein and the final result in Weekly 30 of 1968.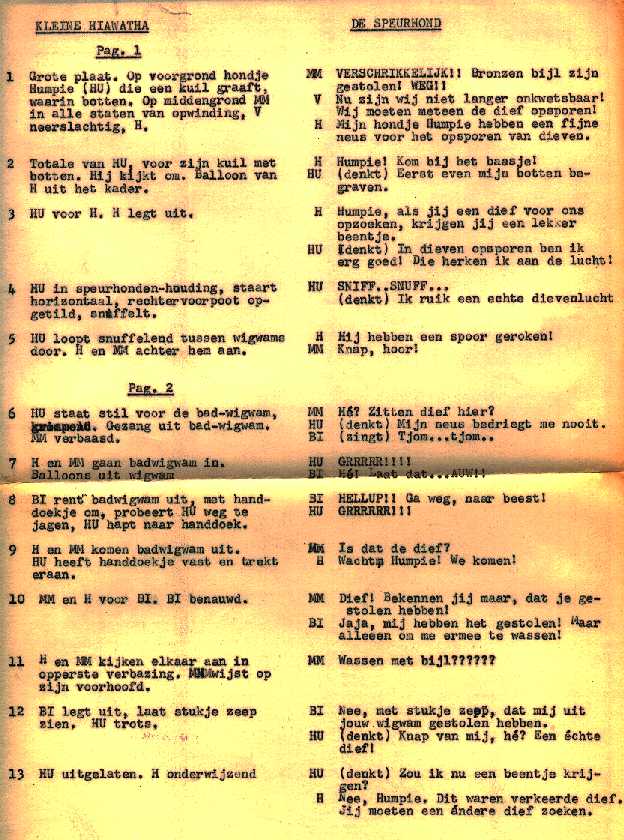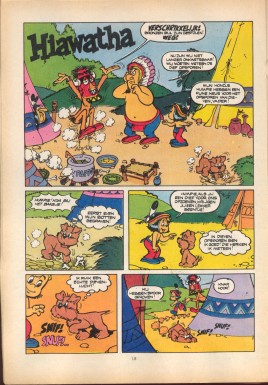 ---
All texts are copyright Harry Fluks. Do not copy without permission.
This website has been built as a hobby. It has no official connections to Disney or the weekly Donald Duck magazine. Drawings are copyright Disney, photographs are copyright of Harry Fluks. Unless noted otherwise.