1971
This year:
Funny things: Hooray! The 1000th issue! (2002-02-13) (List of other years)
Funny things: Finders keepers? (2003-03-26) (List of other years)

Hooray! The 1000th issue!
Weekly 50 of 1971 is also the 1000th issue. To celebrate this, the very first story from the very first weekly is reprinted: the famous fireman story. The reprint was taken from a copy of weekly 1, 1952. The final page of that copy was incomplete; therefore they added new art for the missing part. Also the text shows that part of it was missing.

Later reprints of the fireman story are complete (in 1952 and 1971, also an entire page is missing in the story).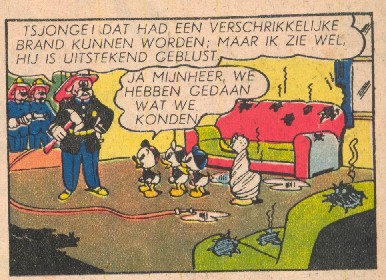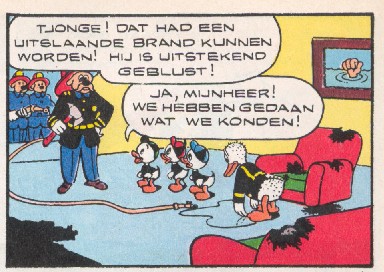 Left: panel from page 9 of the story, in 1952. Right: same panel, in 1971.
Finders keepers?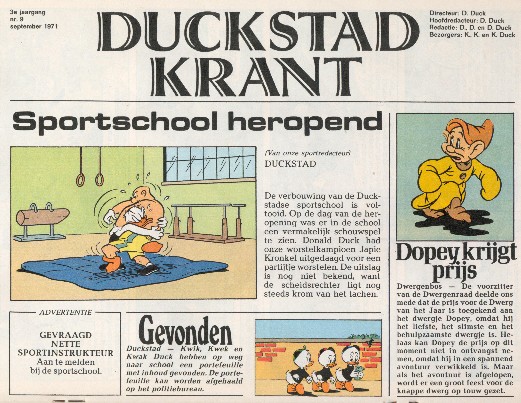 Sometimes, the Duckstandkrant contains an unintentionally funny text.
The message below reads:
Duckburg - Huey, Dewey, and Louie have found a wallet with contents on their way to school. The wallet can be obtained at the police station.
Apparently, the nephews got themselves a finders wage of 100%: the wallet can be obtained at the police station, but we can see in the picture what happened with the contents...

---
All texts are copyright Harry Fluks. Do not copy without permission.
This website has been built as a hobby. It has no official connections to Disney or the weekly Donald Duck magazine. Drawings are copyright Disney, photographs are copyright of Harry Fluks. Unless noted otherwise.