DD50
Welcome to this website, with the provisional name DD50, for lack of a better name.
I made this site because of the 50th anniversary of the Dutch Donald Duck weekly magazine, in 2002.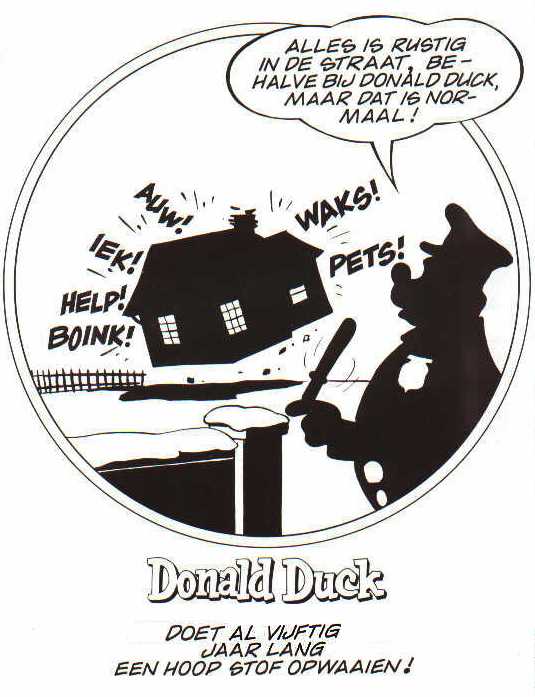 On this website, I'll tell the history of the Weekly (and related Dutch Disney publications). This history can be divided quite naturally into 5 time periods. Apart from the prehistoric times, we have: ancient times (1952 - 1962), the dark ages (1963 - 1972), the renaissance (1973 - 1982), the new era (1983 - 1992), and the contemporary era (1993 - present).
Every time period has its own characteristics, for instance what kind of stories were published in the Weekly. I tell more details on the various pages.
With every year, I try to note some interesting things. Apart from a general introduction to the Weekly in that year, I'm also talking about other publications (magazines and albums) besides the Weekly, nice-to-know facts, and my own personal memories of that year.
I also collect the opinion of other people: which of the 50 years was the best, and why? You can contribute to this: send me an e-mail with the answer to that question, and I may put your answer on this website!
(Also mention your name and year of birth in your answer.)
This website is fully bi-lingual: all texts are available both in English and in Dutch.
When you send in a text, you can use either language. I will take care of a translation to the other language.
As I wrote: this site is "under construction". As a quick reference to which parts are already here, or which parts have been added recently, have a look at the "overview"pages.
Finally: the "me" on this website is Harry Fluks. You can e-mail me at: h.w.fluks AT wxs.nl.
On this website you can find more about me. And I look approximately like this: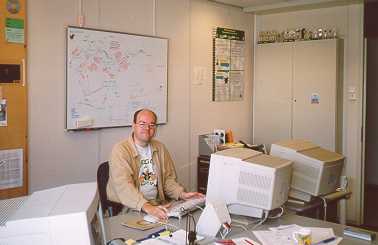 Many scans on this site were made by Roy Kooijman and Kjell Croné. Thanks guys!
---
All texts are copyright Harry Fluks. Do not copy without permission.
This website has been built as a hobby. It has no official connections to Disney or the weekly Donald Duck magazine. Drawings are copyright Disney, photographs are copyright of Harry Fluks. Unless noted otherwise.