Dit is DD50.Inducks.org, onderdeel van inducks.org.
Zie ook mijn Bolderbast site (over Inducks) en mijn foto-album.
vorige pagina | volgende pagina

1964
This year:
Funny things: An American view on Europe (2002-11-27) (List of other years)
Funny things: Mirror trick (2002-11-27) (List of other years)
Funny things: A nicked good idea is better than a bad new idea (2001-08-30) (List of other years)

An American view on Europe
The panel below was made in the USA (drawn by Tony Strobl). It shows how little they know about Europe: a typical French restaurant, and French road signs (though the spelling of "Geneva" is English). But if we're in France, why that typical Dutch house on the left?
Mirror trick
The Chip 'n' Dale story below, from 1964, was reprinted in 1994. But in the reprint, all panels on the first page are mirrored! The reason for this is unclear. They took care, though, that the panels are still in the same order.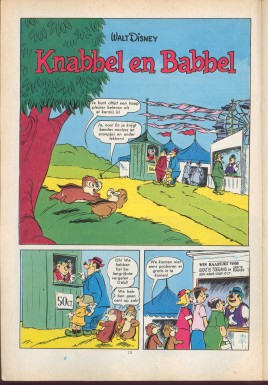 A nicked good idea is better than a bad new idea
Holland had its "home artists" Ed Lukacs and Carol Voges; in Denmark they had Niels Rydahl. The various countries often copied covers from each other. And apparently, it was easier to have an artist redraw the cover, in stead of ordering the original from the other country.

Below are 2 examples of redrawn covers. The originals are drawn by Rydahl.
---
Original (on a German weekly) and Dutch redrawing (on Weekly #4 of 1964):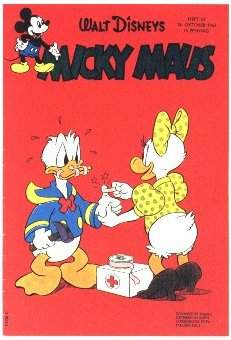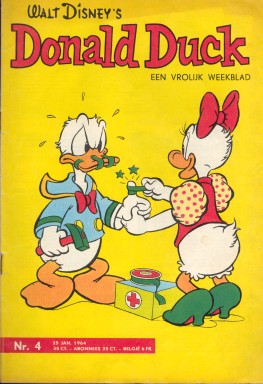 ---
Original (on a German weekly) and Dutch redrawing (on Weekly #44 of 1966):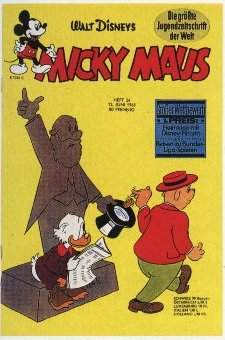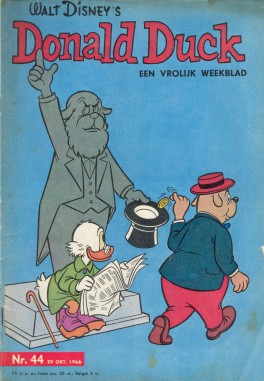 ---
All texts are copyright Harry Fluks. Do not copy without permission.
This website has been built as a hobby. It has no official connections to Disney or the weekly Donald Duck magazine. Drawings are copyright Disney, photographs are copyright of Harry Fluks. Unless noted otherwise.