1969
This year: The Weekly(2002-02-13) (List of other years)
Publications beside the Weekly(2003-03-26)
In 1969, the first Duckstadkrant (Duckburg Times) is issued. Fully drawn by Henk Albers. In more recent years, the Duckstadkrant appears more irregularly. And the counting of years is not always correct. But the Duckstadkrant is still an institution.

When counting the volumes, people sometimes used the reasoning "the first volume was 1969, this is 1989, so it must be the 20th volume". Wrong...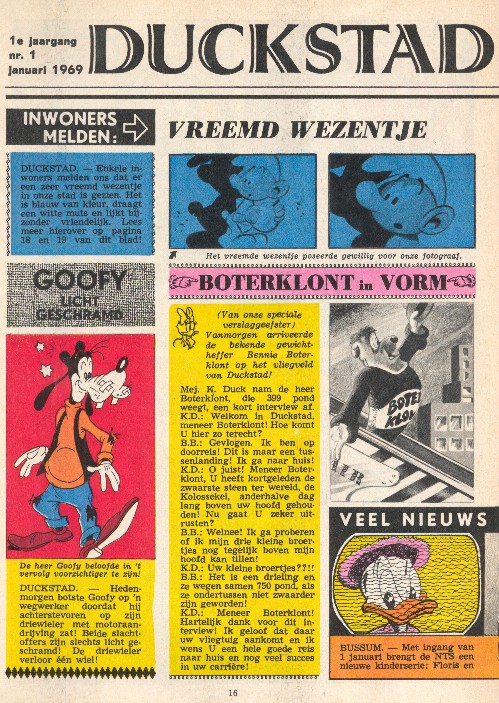 Publications beside the Weekly
Pocket books (first series)
In 1969, the Dutch editor decides to translate the German series Lustige Tachenbücher. That series is a translation of the Italian I Classici Disney. The contents is mainly of Italian origin.

The Dutch series ends in 1975, after 11 pocket books. But in 1977 they start a new series. In both series, the stories are half in colour, half b/w. Finally, in 1992 they start yet another new series, this time all in colour.

The Italian stories from the beginning are sometimes very violent, or for other reasons not suitable for small children to read. That's why the stories have been censored freely in the various stages of reprint. Below we give two examples.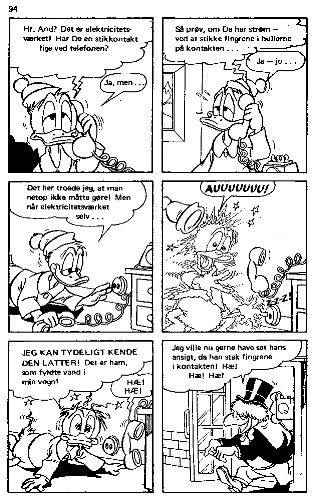 In the story "Willie Wortel als plaaggeest" the above scene has been censored: the children might copy Donald's actions!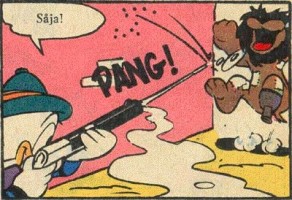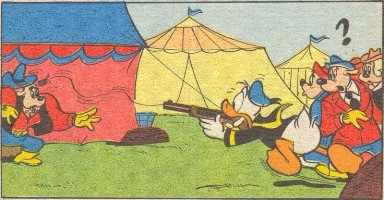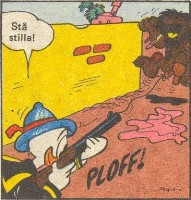 Two panels from the story "Donald als leeuwentemmer" from pocket book #33 (2nd series) (Oom Dagobert in het land van goud, 1987), in a Swedish version, which looks very much like the original Italian version.
Below, the same 2 panels, as they appeared in a Swedish pocket book (the Swedish and Dutch pocket books have the same contents).
The censoring has some strange consequences here: Donald shoots with a toy gun, but in the next panel (not shown), the cowboy has real holes in his hat!
---
All texts are copyright Harry Fluks. Do not copy without permission.
This website has been built as a hobby. It has no official connections to Disney or the weekly Donald Duck magazine. Drawings are copyright Disney, photographs are copyright of Harry Fluks. Unless noted otherwise.